Apologies for a couple of 'empty' posts that appeared here - turns out I'm an idiot sometimes.
Allow me to introduce you to one of Cambridges most ill considered, hostile roads for cycling on. This is Milton Road.
View Larger Map
Whats bad about it? Pan left a few degrees. You're looking at the shared use cycle route on Milton Road, heading away from Central Cambridge out towards Arbury, Kings Hedges, the Science Park and Milton. This is a major artery into Cambridge. You can ride a bike or walk on that 'shared use' facility. Naturally, even though we've got raised cushions across some of the side roads we're still expected to stop and give way - heavens forbid cyclists on an arterial route are treated as equals with motorists. And of course there are no lines dividing pedestrian space from cyclist space, so you'll have people quite reasonably walking three abreast with baby buggies and wandering children. If you DO brave the shared use facility you'll be swerving back and forward with puddles, pot holes, the occasional illegally or antisocially parked car.
But thats okay, you're thinking. Look, there's a road. Okay. So look at it. Just... look at it. The above image from Google Maps is a pretty typical view - nose to tail traffic, each motorist seemingly more angry than the last at the sight of a cyclist eating up road space when they clearly should be on the pavement. Milton Road exists in two states - nose to tail constipated anger or speeding motorists paradise, in neither state is it cyclist friendly. Lets go a little further up the road and see what we can see...
View Larger Map
...and look, we've got a massively wide pavement, which of course is used (quite legally) to park cars OFF the road. Which means that there isn't room for segregated cycling - we've either got to share with the cars on the road (blandly blocking the lane entirely or speeding past pavement parked cars) or we've got to mix with the pedestrians (risking being knocked off at every concealed driveway and, likely as not, slaloming among pedestrians who are understandably hostile to this). I leave my readers to decide whether there is room here for full cyclist segregation.
The critical question now is where does the shared use lane stop? Lets go forward to that roundabout we're looking at and see the junction with Highworth Avenue (pic. courtesy of
Richard Taylor
, Cambridge local affairs guru).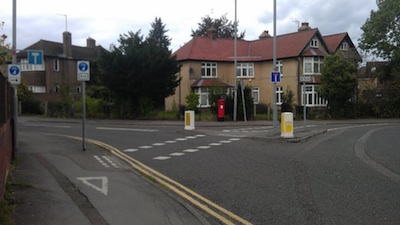 I don't know what you're seeing there, but I see a bunch of signs, some at least saying there is a mixed use lane, and a clearly painted on route that I think looks like where they want me to ride.
In fact, there are no signs telling me that the cycle lane I'm on has ended. At all. When I come to the junction with Union Lane and Arbury Road, lets see what we find:
View Larger Map
Why is this a problem? Well,
Cambridgesire Contabulary have recently taken to staking out this junction to target problem cyclists.
They've done so because
local councillors have instructed them to nab cyclist
in what looks like a vindictive, classic cyclist-hating polciy. Effectively, if you've reasonably continued riding where there it no evidence that the shared use facility has ended, and you're caught you have a choice between paying a fine and getting a criminal record -
our local authorities, including our Police force, are colluding in what is no better than entrapping cyclists
who are merely trying to survive, against the specific guidance given to Chief Constables alongside the powers to give out fixed penalty notices. In Cambridge, supposedly Britains top cycling city. Don't kid yourselves - our City and County Councils, together with our police force, are not merely failing us but appear to be colluding not only to discourage cyclists but to demonise us.
I leave you with an example of what the Police don't give a fuck about happening on Arbury Road. When I tried to report this I was informed that because there was no contact, there was no incident - after ten minutes discussion at the police station desk I couldn't even get an incident number. Instead they're trapping cyclists who have no reason to believe the shared use path has ended. Draw your own conclusions.